"Just to prove i was right that it's harder to be friends than lovers and you shouldn't try and mix the two, cause if you do and then you're still unhappy, then you know that the problem is you."
- Liz Phair
"If you should die before me, ask if you could bring a friend."
- Stone Temple Pilots
"Mother my friends are no longer my friends
And the games we once played have no meaning
I've gone serious and shy and they can't figure why
So they've left me to my own daydreaming."
- Suzanne Vega
"And the days went by like paper in the wind. Everything changed, then changed again. It's hard to find a friend. It's hard to find a friend."
- Tom Petty
"I'll lean on you and you lean on me and we'll be okay."
- Dave Matthews Band
"You were the one who made things different, you were the one who took me in. You were the one thing I could count on, above all, you were my friend."
- Tom Petty
"When I'm with you I feel like I could die and that would be alright, alright."
- Third Eye Blind
"Lean on me, when you're not strong, and I'll be your friend, I'll help you carry on, for it won't be long, 'til I'm going to need somebody to lean on."
- "Lean On Me"
"In good times, in bad times I'll be on your side forever more, that's what friends are for."
- "That's what friends are for"
"I think about you all the time, but I don't need the same."
- Goo Goo Dolls
"Without you, there'd be no sun in my sky, there would be no love in my life, there'd be no world left of me."
- Leann Rimes
"Don't be dismayed at goodbyes. A farewell is before you can meet again. And meeting again after a moment or a lifetime is certain for those who are friends."
- Richard Bach

"I get by with a little help from my friends."
- John Lennon
"Hey my friend, I see your eyes are troubled, care to sare your time with me?"
- Dave Matthews Band
"You've got troubles, I've got 'em too. There isn't anything I wouldn't do for you. We'll stick together to see it through cause you've got a friend in me."
- Randy Newman
"Best friends just won't leave your side"
-Blink182
The following five song quotes were sent in by Ginny Dugan
"Once upon a blue moon a wish apon a star, you find someone to help you find out who you are, I never thougth that love could feel the way you make me do, so as a token of our love, I say these words to you."
-Marty Keith
"Take my hand, and hold on tight, don't let go, don't you dare even try, there are so many roads to travel, so much still to find, and with the help of our lord, I want you to help me try and reach for the sky."
-Marty Keith
"Thats what a friend is for, when your lost in darkness and searching for the light, to help you through those lonely nights, when everything around you fails just hold out your hand, and i'll come running, thats what a friend is for."
-Marty Keith
"Earthyly friends may prove untrue, doubts and fears asail, but one still loves and he cares for you. One who will not fail."
-Song "Jesus, never fails"
The following three quotes are from the Dave Matthews Band (Sent in by Kaitlyn Peers)
"Turns out not where but who you're with that really matters"
"See you and me have a better time than most can dream of"
"Hey my friend, it seems your eyes are troubled. care to share your time with me"
"Let me be the one you call If you jump, I will break your fall, lift you up and fly away with you into the night If you need to fall apart, I can mend a broken heart, If you need to crash, then crash and burn, you're not alone"
-Crash and Burn by Savage Garden -Sent in by Ashley
"We've gone our own ways and I know its for the best, but sometimes I wonder will I ever have a friend like you again?"
-Blink 182
"Even if we never talk again after tonight, please remember that I am forever changed by who you are and what you meant to me"
-Chasing Amy
I was just wondering if you'd come along to hold up my head when my head won't hold on. I'll do the same if the same is what you want, if not I will go alone."
-Dave Matthews Band
"Do what you will, always walk where you like, your steps, do as you please I'll back you up."
-Dave Matthews Band (i'll back you up)
"See you and me have a better time than most can dream of, better than the best, so we can pull on through, whatever tears at us, whatever holds us down, and if nothing can be done, we'll make the best of what's around."
-Dave Matthews Band
"A friend is always good to have, but a lover's kiss is better than angels raining down at me."
-Dave Matthews Band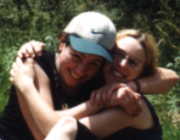 The following three quotes were sent in by Logan.
"I did try to come back and listen
You never it..I didn't wish it
But I did hear every answer ever question
It's all about protection
stil through the sunlight days I wait
Track a ghost through the fog
The sun is burning me
And you come running out in the wind with me
The ocean is your blanket..."
-Stevie Nicks
"I pull you from your tower, take away your pain, show you all the beauty you posess if you'd only let yourself believe"
-Sarah Mclachlan
"I won't be the one who's going to let you down Maybe you'll get what you want this time around The trick is to keep breathing"
-garbage
"Once there was a darkness, a deep and endless night, you gave me everything you had and oh, you gave me light"
-Sarah Mclaughlan - Sent in by Rachel
"If I had only one friend left, i'd want it to be you."
-Paul Overstreet.
"The times when we would play about,
The way we used to scream and shout
We never dreamed you'd go your own sweet way.

Look for the rainbow in every storm,
Find out for certain, loves gonna be there for you,
You'll always be someones baby

Goodbye my friend
I know you're gone, you said you're gone although I can still feel ya here
Its not the end
Gotta keep it strong before the pain turns into fear."
- Spice Girls - Sent in by Allison
Caught like a leaf in the wind
Lookin' for a friend
Where can you turn
Whisper the words of a prayer and you'll find Him there
Arms open wide, love in His eyes
Jesus - He meets you where you are
Jesus - He heals your secret scars
All the love you're looking for is Jesus
The friend of a wounded heart
-by Wayne Watson from his song "Friend of a Wounded Heart" - Sent in by Rene
"As we go on.. We remeber... All the times, we had together... As our lives change...come whatever We will still be friends 4-Ever "
-Vitamin C~Graduation Day Song -Sent in by ~!~Brittany~!~
"At the shrine of friendship Never say die, Let the wine of friendship never run dry."
- Les MisÚrables (Jean-Marc Natel & Alain Boublil
"Ill stand by you, take me into your darkest hour, i wont let nobody hurt you, ill stand by you, and, ill never desert you"
- The Pretenders
"Don't you worry.
Sometimes you've just got to
let it ride.
The world is changin'
right before our eyes.
Now I've found you
there're no more emptiness inside...
if we're hungry,
love will keep us alive."
-Eagles
-Sent in by Susannah Thomson
"Every now and then we find a special friend, who never lets us down, who understands it all, reaches out each time you fall, you're the best friend that I've found."
-Jordan Hill - "Remember Me This Way"

"I hope you got all the answers and you've come to understand That people and things are always going to change And you can't stop them now."
-"Rebecca" by the Pat McGee Band.
-Sent in by Annie
"For a shield from the storm, for a friend, for a love to keep me safe and warm...I turn to you. For the strength to be strong, for the will to carry on...for everything you do, for everything thats true, I turn to you."
-Christina Aguilera (I Turn to You)
" When I'm lost in the rain, In your eyes I know I'll find the light to light my way And when I'm scared, losing ground When my world is going crazy You can turn it all around and when I'm down you're there Pushing me to the top You're always there, giving me all you've got "
-Christina Aguilera (I Turn to You) -Sent in by Ashley Delpidio
The following two quotes were sent in by Lacy.
"And I will take you In my arms.. And hold you right where you belong. 'Till the day my life is through.. This I Promise You."
- "This I Promise You" -NSync
"I'll give you stregnth, I'll give you hope. Keeping your faith that is gone. And the one you should call was standing there all along."
- "This I Promise You" -NSync
"Don't want to leave, but we both know sometimes it's better to go. Somehow I know we'll meet again, not sure quite where and I don't know just when you're in my heart, so until then, smile, don't want to cry saying goodbye."
-The Muppets - Sent in by Sandy Macbeth
"Let's make a resolution. I'll drink to that. Let's always stay friends. Friendship is thicker than blood...That depends...Depents on trust. Depends on true devotion. Depends on love. Depends on not denying emotion..."
-Rent - Sent in by Cat.